Donations
Soap Donation Center, Inc. is a nonprofit charity for soap makers and philanthropists across the United States and gratefully accepts donations of funds and/or homemade soap.
Donate Funds
Donated funds are used primarily for postage to ship handcrafted soap donations to recipients throughout the United States and for overhead expenses related to running our organization. In doing so, your generous gift helps us to succeed with our mission. Our organization consists of volunteers only; we have no paid staff.
Donate Soap
Donate Whole Bars of Soap
Our volunteers, the tax-exempt charities' staff receiving your soap, and those in need of soap across the United States, sincerely appreciate your donation of precious homemade soap.
Donors should enclose a completed Soap Donation Form with the donated soap.
Soap donations must be safe for use and free of sodium hydroxide.
Donated soap bars should be labeled.
To comply with sanitary requirements, soap donations should be shrink wrapped.
If soap donations are received without labels or shrink wrap, Soap Donation Center volunteers will label and shrink wrap the donated bars.
Mail soap to Soap Donation Center or take soap to a drop-off location.
Postage for mailing homemade soap to Soap Donation Center is tax-deductible.
Donors receive a donation receipt letter for the purpose of claiming the in-kind gift donation of soap as a tax deduction at fair market value.
Soap Donation Form Soap Valuation Guide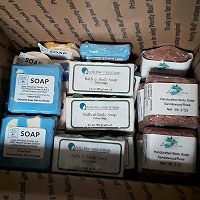 Donate soap to Soap Donation Center.
Soap Drop-Off
Soap drop-off locations are available on a limited basis across the US.
California: Lemon Grove

Soapmaking Studio
7301 Mount Vernon Street
Lemon Grove, CA 91945
Hours: Mon, Wed, Fri, Sun: 10 am–5 pm. Sat: 9 am–4 pm. Tue, Thu: Closed.

California: San Diego

Marie Callender's Restaurant
6950 Alvarado Road
San Diego, CA 92120
Hours: 2nd Sunday of April and October at 1:30 pm, immediately before the Soap Makers' Luncheon.
Print flyer PDF

Virginia: Culpeper

Seek Lavender Farm
15528 Bradford Road
Culpeper, VA 22701
Hours: Telephone (540) 894-6051 to schedule a drop-off appointment.
Donate Soap Scraps, Shavings, or Trimmings to Eco-Soap Bank
To donate soap scraps, bevels, or offcuts, please visit Eco-Soap Bank.